Ninja Creami frozen yogurt is one of the easiest things you can make in your ice cream maker. Transform your favorite flavor yogurt into a healthy frozen treat using these simple steps. Your entire family will love this one!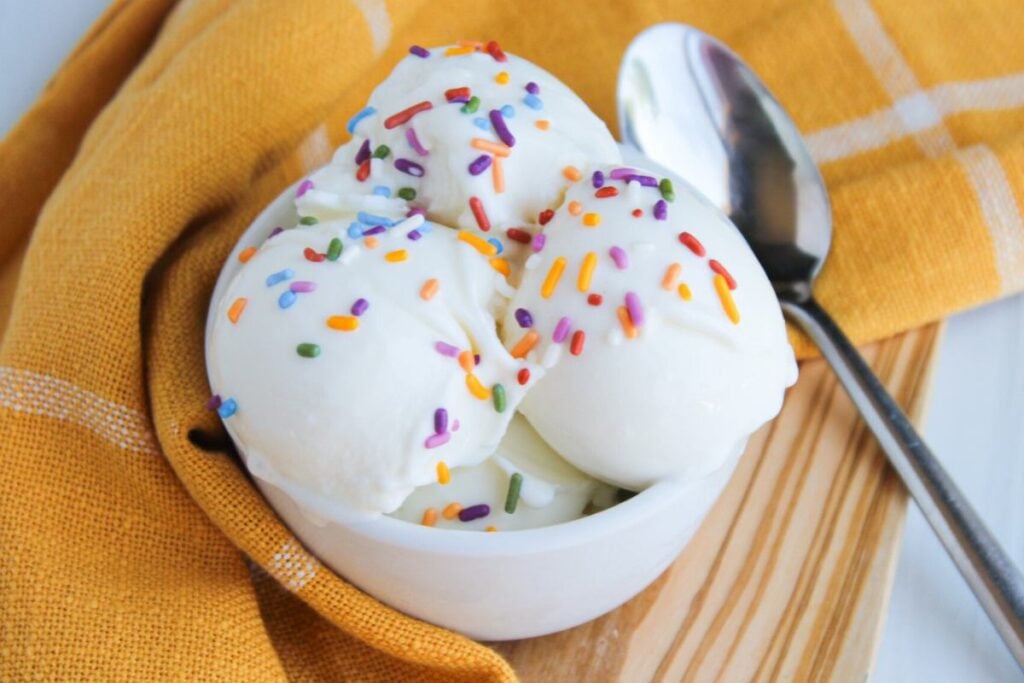 About this recipe
If you've been making homemade ice cream in your Ninja Creami ice cream maker, you already know how easy it is. Making frozen yogurt is just as easy, and the best part is that you really only need one ingredient for this delicious treat- your favorite yogurt!
This frozen yogurt is packed with the perfect blend of sweet and tangy flavors and a super creamy texture even using fat-free yogurt. This is easily one of my favorite recipes for this ice cream machine because it's so simple, healthy, and will satisfy any sweet tooth.
For this recipe I used Greek yogurt because I love that it's packed with protein! Half a pint of this frozen yogurt recipe has a whopping 18g of protein to keep you full and satisfied. Plus, you get all of those gut-healthy probiotics that you know and love about yogurt!
Frozen yogurt that you get at the store isn't always actually lower sugar. The advantage of this frozen yogurt is that you can choose a Greek yogurt with the amount of sugar that you're comfortable with. If you prefer no sugar or low sugar, you have complete control over which yogurt you choose.
Ingredients
Greek yogurt: I like using vanilla fat-free Chobani Greek yogurt because it's one of my favorite tasting yogurts and an easy way to make it one ingredient. It's a great vanilla frozen yogurt base for any mix-ins you want to add. Use whichever Greek yogurt flavor or brand that you enjoy!
If you choose a plain Greek yogurt, I recommend adding a tablespoon of honey, maple syrup, or whichever type of sweetener you prefer.
How to Make Frozen Yogurt in the Ninja Creami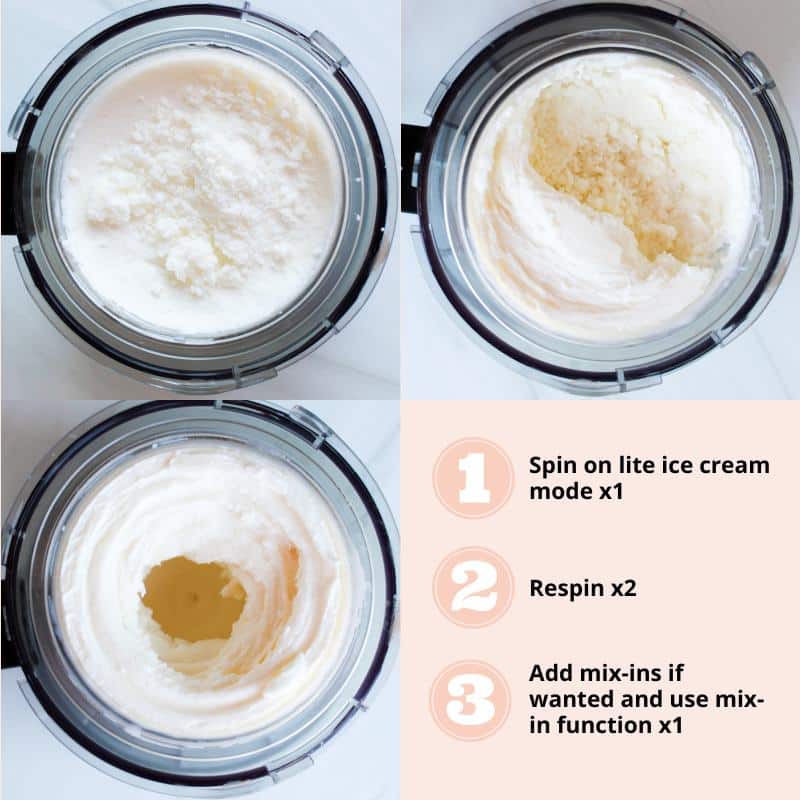 Add 16 oz. of Greek vanilla yogurt to the Ninja Creami pint container. If using an unsweetened yogurt, add sweetener at this step and then put your yogurt mixture in the provided pint container. Make sure the yogurt is a level surface and not above the max fill line. Freeze for 24 hours.
Place pint container in the Ninja Creami machine and spin on lite ice cream function x1.
Re-spin function x2.
If adding any mix-ins, create a hole in the center, add your mix-ins and then run the mix-in function x1.
FAQ
Can I make this sugar-free?
Definitely! If you're watching your sugar intake you can make this recipe sugar-free by either choosing a sugar-free yogurt or making with plain Greek yogurt and then adding your own sweetener. If you choose plain yogurt, add a sugar-free sweetener like stevia, monk fruit sweetener or whatever you prefer.
Is frozen yogurt a healthier alternative to ice cream?
It really depends! There are actually lots of frozen yogurts that you'll find in store that have the same amount of added sugar as traditional ice cream, making them pretty equal to ice cream.
In this case, you have the advantage of being able to control exactly how much sugar your frozen yogurt has because you're choosing your own yogurt. So, if you choose a low or no sugar yogurt, it can be a healthier alternative. Plus you still get all of the great benefits of probiotics in this sweet treat.
Is it necessary to re-spin twice?
I've found that the lower fat recipes absolutely need two re-spins after the initial spin. You can experiment with adding a bit of liquid after the first spin to help it smooth out more quickly, but I prefer a firmer textured frozen yogurt, so I think running it a third time is no big deal.
Mix-in Ideas & Variation ideas
Fresh fruit like strawberries, raspberries or blueberries!
Chocolate chips or chocolate shavings
Cookie pieces like chocolate chip cookies or Oreos
Chopped nuts
Nut butter like almond butter or peanut butter
M&Ms or peanut butter cups
Granola
Lemon juice and lemon zest for a citrus fruit flavor!
Experiment with different flavors of yogurt
More Ninja Creami Recipes:
Ninja Creami Chocolate Ice Cream (Two Ingredients!)
Cookies and Cream Ninja Creami Ice Cream (Lower Sugar)
Cottage Cheese Ice Cream (Ninja Creami Recipe)
Ninja Creami Frozen Yogurt
Sweet, creamy, tangy frozen yogurt made with one simple ingredient in the Ninja Creami ice cream maker.
Print
Pin
Rate
Equipment
Ninja Creami Ice Cream Maker
Ingredients
16

oz

vanilla Greek yogurt

Use whatever brand/flavor you love! I used fat-free Chobani Vanilla Greek yogurt for this recipe
Optional
1

tbsp

honey or maple syrup

Add if you're using unsweetened yogurt.
Instructions
Add 16 oz. of Greek yogurt to the Ninja Creami pint container. Freeze for 24 hours.

Place pint container in the Ninja Creami machine and spin on lite ice cream x1.
Notes
Using the mix-in function, add any additional mix-ins that you enjoy like chocolate chips, peanut butter cups, cookie pieces, or fruit.
Nutrition
Calories:
169
kcal
|
Carbohydrates:
21
g
|
Protein:
18
g
|
Sodium:
85
mg
|
Sugar:
20
g
|
Calcium:
220
mg