Healthy, balanced eating that feels effortless
Stop stressing about your diet and learn realistic strategies that work.
LEARN MORE ON THE BLOG – HERE'S WHAT'S TRENDING
Take the guesswork out of healthy eating with The Balanced Basics Handbook!
Ready to learn the basics of balanced, healthy eating right from a dietitian? This step-by-step starter guide will help you build healthy habits and learn everything you need to know about building balanced meals that leave you feeling in control around food. Join the hundreds of women who have used this guide to feel confident with food!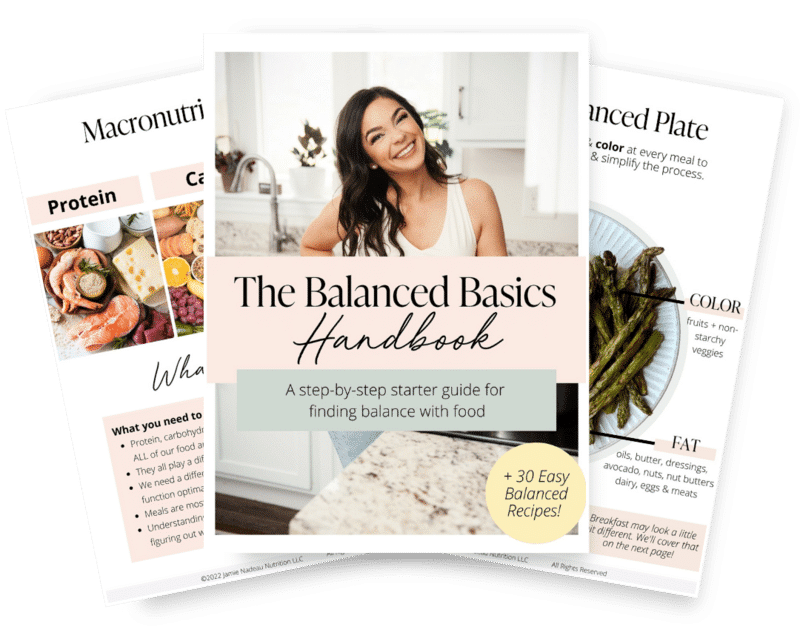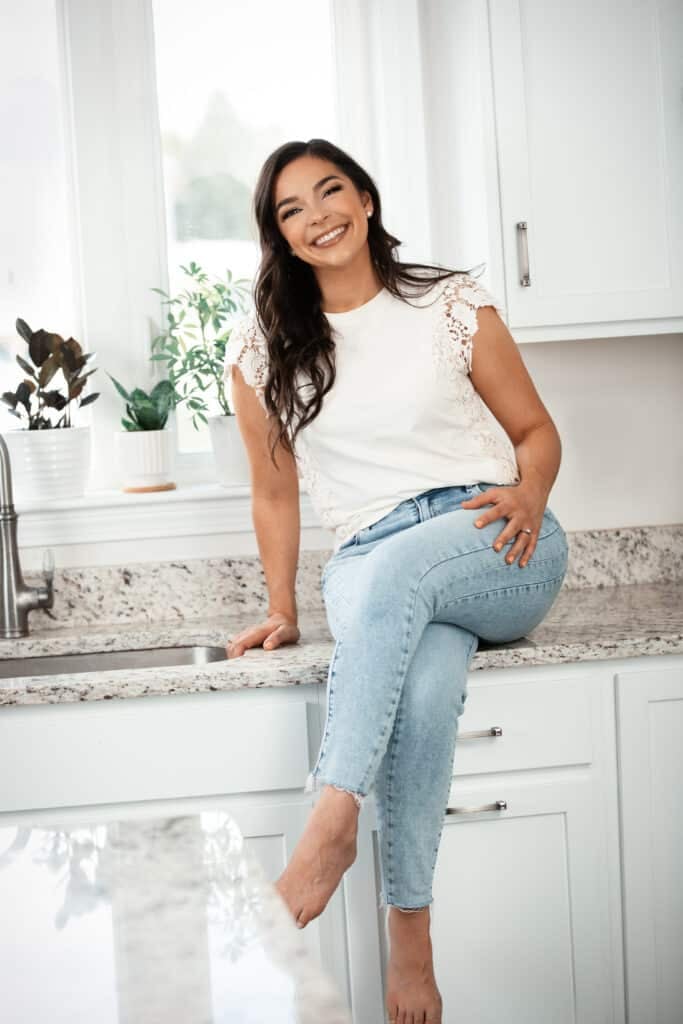 I'm a Registered Dietitian of almost a decade and my most favorite thing is helping you go from confused to confident with food. I know exactly what it's like to feel like your lack of willpower around food is running your life. I've helped hundreds of women just like you find balance with food and improve their health using a balanced, realistic approach to eating. You can do this too! I'm so excited that you're here.
Working with Jamie has been THE best investment I have made in my health and myself, probably ever. Her no-nonsense approach to eating has been totally freeing and I no longer feel weighed down by the many "food rules" that I had for myself before (which I would inevitably break because they were unsustainable which would lead me to feel really down on myself about). I no longer feel guilty about eating food and don't spend time thinking about dieting! I have so many realistic tools that I can carry with me for the rest of my life!
I would love to tell someone who is thinking about working with Jamie that this is SOOO much more than weight loss goals. Although most of us start with that main goal in mind, working with Jamie you quickly learn how much more it will mean to your life than the pounds coming off. How much better you will FEEL will be immeasurable.
I feel so much better! My entire day isn't focused around food, being hungry and thinking about what I can eat. I believe my relationship with food is healthy for the first time in my life. I know that my current eating plan is sustainable and balanced and healthy!
I used to be incredibly stressed about what I was eating. It was a constant source of anxiety in my life, and I was never happy or satisfied with my diet or even my body. All of that has changed! I am no longer stressed or anxious about what I'm eating at all. I am mentally so much happier and healthier! And this has led to me having achievable goals toward a healthy life. And I am so much happier and more comfortable in my body every day
Need easy meal ideas? I've got you covered!
Grab Your FREE Cravings Course & Ultimate Balanced Snack Guide!
Learn why your cravings are happening and how to manage them. You'll also get access to the Ultimate Balanced Snack Guide PDF which includes The Balanced Snack Formula and 24 delicious balanced snack ideas.