If you're looking for the simplest ways to eat more greens, you're not alone! Most adults in the US get far too few veggies on a daily basis. Smoothies can be a great tool for eating more of them. In this article we'll cover the best healthy greens for smoothies so you can choose one that works for you!
As a Registered Dietitian, health is important to me, but so too is living your real life! As a mom, I know how busy the days can get. So it is my goal to empower you with strategies to make food feel balanced, nourishing, and doable.
Adding greens to your smoothies is a simple way to get the health benefits of vegetables without sacrificing flavor. Not only do they add valuable vitamins and minerals, but they can also help you feel fuller for longer and boost your energy levels. 
Let's start off with what a green smoothie actually is. 
This post may contain affiliate links.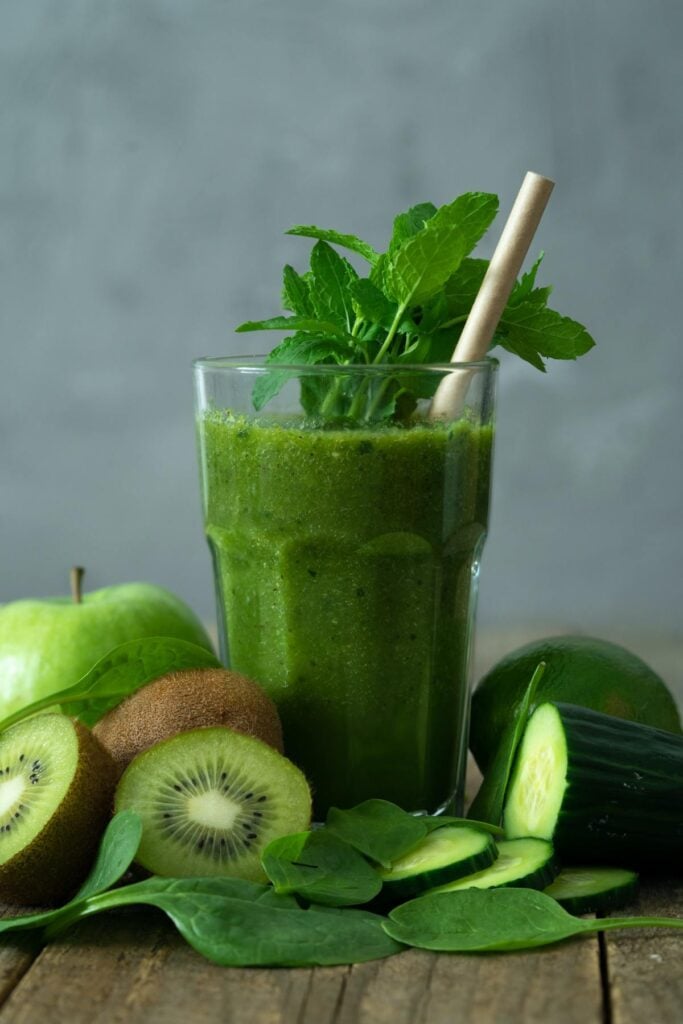 What is a green smoothie?
A green smoothie is a blended drink made with green leafy vegetables and other ingredients. Most often this includes fresh or frozen fruit and a liquid (such as water, juice, or milk). Green smoothies can also include nuts, seeds, yogurt, or protein powder.
Depending on what you add (or skip), veggie smoothies can be a lower sugar alternative to regular fruit smoothies but still offer plenty of flavor. Leafy greens like spinach, kale, Swiss chard, and collards are packed with vitamins and minerals such as iron, calcium and vitamin K. 
A smoothie isn't exactly the same as "green juice". Green juice is made with a juicer (not a blender) and the fiber is separated from the fruit and vegetable juice. Green juice is more of a snack since it doesn't have any protein or fat in it whereas a smoothie could be a complete meal if you want it to be.
Now: which greens do I recommend giving a try in your next green smoothie? Let's dive in!
Best greens for smoothies
Now: here is our list of the best greens for smoothies. What I like about this round-up of options is that they are all packed with nutrition but don't have too strong of a flavor or a stringy texture. Feel free to use one (or a combo of several) to boost your next smoothie.
1. Spinach
Fresh baby spinach is one of the most popular leafy green vegetables to add to smoothies. Its mild taste and soft texture make it easy to blend into almost any smoothie while adding a hefty dose of vitamins A, C, E, and K.
My Tropical Smoothie Detox Island Green Smoothie (Best Copycat Recipe!) has spinach AND kale in it (and tastes great!). It's my all-time favorite green smoothie recipe!
Tip: if you have a container of baby spinach that isn't quite as fresh as when you got home from the grocery store, you can toss it in the freezer to buy you a little more time before using the frozen greens in a smoothie.
2. Kale
Another popular green for smoothies, kale has a slightly bitter taste that can be offset by sweeter fruits and adds a healthy dose of vitamins A, C, and K, along with fiber.
If you use baby kale, it will have a milder flavor than the larger, more mature leaves. If your blender isn't super powerful, consider removing any tough stems before adding kale to your blender. Throw a handful into my Sunrise Sunset Smoothie for a flavorful, nutrient-packed smoothie.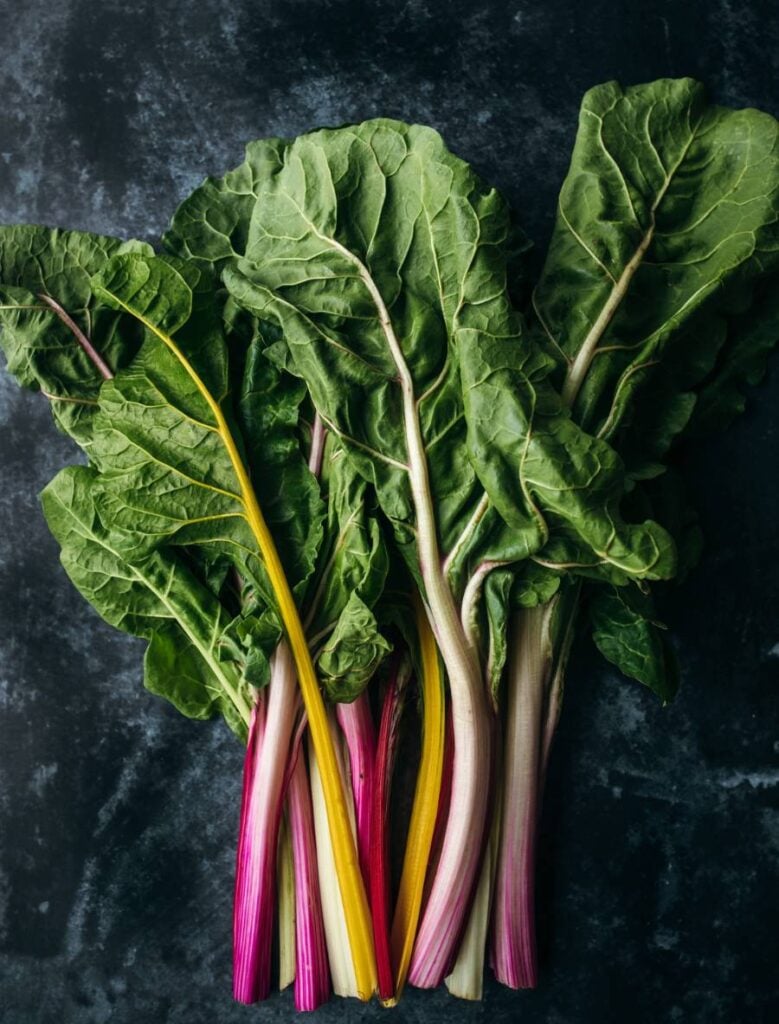 3. Swiss chard
Swiss chard has a slightly earthy flavor that can be toned down by adding sweet fruit like apple or banana. You can use the leaves as well as the stem.
There are two varieties of Swiss chard commonly available in the grocery store and farmer's markets. Have you ever seen rainbow chard? The stems are a beautiful range of red and yellow colors.
As for nutrition? Swiss chard is also packed with magnesium, iron, and vitamin K.
4. Collards
You might think of collard greens as a simmering pot of greens on the stove all afternoon, but you can actually use collards in smoothies, too!
Collards have a mild, slightly bitter flavor that can be offset by adding sweet fruits and they offer loads of fiber, calcium, and iron.
5. Beet greens
Have you ever bought a bundle of fresh beets to roast and tossed out the attached leaves? You can actually eat those! Like spinach and Swiss chard, you can eat beet greens steamed, sauteed, and even raw in a salad. You can also toss them into your blender! That's a frugal choice: two veggies with one purchase!
Note: Beet greens can be sandy; be sure to wash them thoroughly before eating. The simplest way is to fill your sink with cool water and soak the greens for a while, swishing the greens in the water a few times; this will allow any sand to fall to the bottom of the sink. Rinse them off, dry them in a towel or lettuce spinner and your beet greens are good to go!
6. Romaine lettuce
Did this one surprise you? Yes, you can blend lettuce!
Romaine lettuce has a much milder flavor than other kinds of lettuce. It is crunchy but blends well into smoothies, adding fiber and vitamins A and K. Use the darker, outer leaves for the best flavor and nutrition.
Mild-flavored romaine is perfect for this vitamin C packed Kiwi Quencher Smoothie.
7. Arugula
If you like your smoothie with some kick, add arugula to your next smoothie! You can use baby arugula for less of a peppery flavor. The delicate leaves add fiber, calcium, and folate to your smoothie.
8. Microgreens
Microgreens don't actually refer to one kind of plant, rather they're the tiny baby plants picked just after they started growing. For example, broccoli, spinach, sunflower, and green pea microgreens are all pretty common. Many can be grown in your kitchen or on your windowsill. You can buy them at the store, too!
And it turns out, microgreens are a great addition to smoothies. They have a mild flavor and a lot to offer in terms of nutrition! Microgreens add iron, fiber, and vitamin K.
9. Fresh herbs
Fresh herbs are not just for a garnish; they're full of nutrition, too! Adding a handful of fresh herbs gives your body a big dose of micronutrients and a satisfying punch of flavor. Try adding a bit of mint or cilantro for an extra-refreshing smoothie.
Adding greens to your smoothies is a great way to get the health benefits of vegetables without sacrificing flavor. Not only are they an excellent source of vitamins and minerals, but they can also help you feel fuller longer and boost your energy levels.
10. Greens powders
Greens powders seem to come in and out of fashion; they're well-marketed by the companies and their influencers. As a dietitian, my viewpoint is that greens powders can have a benefit, if they fit in your budget and you like the taste, but they're not necessary either. One pro for the powders is that they're convenient and not super perishable like fresh greens.
So, greens powders can potentially be a healthy way to make your green smoothies, but for the full scoop on all things greens powders, check out this post: Are Greens Powders A Waste Of Money? A Dietitian Review.
Tips for making a filling, satisfying green smoothie
Smoothies can be a nutritious, hydrating drink no matter what you put in it because of all the fruits and veggies.
If you want your smoothie to function as a complete and satisfying meal (or a filling afternoon snack), you're going to want to make sure that your delicious blend has a balance of nutrients that will keep you satisfied. 
Veggies are super-duper healthy, but they're not going to keep you fueled and energized for long by themselves.
Use a good blender
There is nothing more off-putting with a smoothie than one that is chunky, gritty, or anything other than a silky smooth creamy texture, amiright?
I recommend investing in a good blender; you'll use it again and again! Here is my favorite. 
Add protein
Protein boosts the satisfaction level of your smoothie, so try adding protein sources like a scoop of protein powder, nut butter, Greek yogurt, or hemp seeds. Adding protein helps to stabilize your blood sugar and keep you fuller, longer.
I have a full post about different kinds of protein powder here if you'd like to check it out: Collagen vs. Protein Powder: Which is Best for You?
Add healthy fats
Healthy fats can help slow down the absorption of sugar and keep you feeling fuller longer. Great sources are peanut butter, almond butter, avocado, coconut oil, and chia seeds.
Use sweeter fruits
If you're using greens that have a stronger flavor, like kale or arugula, adding your favorite fruits can help balance out the taste. Try adding fresh fruits (or frozen) like green apples, pineapple, banana, or berries to your smoothie. Adding fruit also gives your smoothie a big fiber and nutrient boost.
Add sweetener
Taste your smoothie after blending – is it delicious? Healthy choices should actually taste good to you; I'm never going to advocate that you force yourself to eat something that you don't like.
If you would like your smoothie better if it were a tad sweeter, consider adding some liquid sweetener so that it doesn't add a gritty texture; I love maple syrup and honey the best. You can even add a splash of fruit juice like orange juice or pineapple juice.
Start with smaller amounts of greens
If you're new to the green smoothie game – welcome! I don't recommend jamming as many greens into your blender as you can; it might not taste all that great! Start with a small amount- a few leaves of spinach or kale, and build your way up as you increase the amount of greens that you can enjoy.
Turn leftover smoothie mix into popsicles
Did you make too much? No problem!
Pour extra smoothie mix into popsicle molds and freeze. Et voilà! You have popsicles to cool off with this summer!
So there you have it – all the tips for adding healthy greens to your smoothie and making sure that your delicious green smoothie is filling enough to keep you going until lunchtime! Have fun experimenting with different greens to boost the nutrition of your smoothies without too much fuss!
That's a wrap!
It may seem like just about any green leafy veggie can blend into a smoothie…and you'd be right! Smoothies are a great base for veggies – just skip the ones that are extra fibrous or stringy (like the stem of kale) or large amounts of greens that are really bitter (such as dandelion greens). 
These are some of our favorite greens for smoothies but there are plenty more out there! Try experimenting with different greens and fruits to find your favorite combinations. Adding fresh leafy greens boosts your nutrition without too much fuss (or cooking on a hot day!). 
For more guidance on how to have a healthy, balanced life, without taking over the rest of your life, check out the Balanced Basics Handbook! Take the guesswork out of making healthy, balanced choices with this step-by-step starter guide for finding balance with food.
More articles you'll like:
Facts About Protein From a Registered Dietitian
How to Stop Snacking Mindlessly (10 Dietitian Tips)