Most of us have nostalgic childhood memories of opening your lunch box and peeling back the plastic top of a Lunchable to reveal the yummy contents inside. Those delicious, pre-packed snacks were such a treat!
And do you know what? They still can be. But instead of buying the premade version, I like to build my own Adult Lunchables, filled with nutritious foods that I love.
In this blog, I'm going to dive into how you can make your own healthy lunchables at home, why they're so great, and share 10 Lunchable ideas to get you started!
Hi, I'm Jamie, a Registered Dietitian of 8+ years. My passion is helping women find their balance with food through a realistic approach to eating. Together we ditch unsustainable "food rules," guilt about eating, and obsession with dieting!
Let's dive in with how to make your portable, kid-inspired lunch that you'll look forward to eating.
How to make an adult Lunchable
The best adult Lunchable has the right balance of flavor and nutrition packed in the perfect container to keep everything fresh.
The portions of your homemade lunchables will be a little larger than the kids' versions and so much tastier. You can combine whichever ingredients you like best, but the idea is to build a balanced meal filled with a protein source, fruits, veggies, healthy fats, and fiber-filled carbs. 
I like to organize mine in a bento box, or a container with compartments. If certain foods are too close together (like apple slices and crackers) you'll find a sad, soggy mess of a lunch.
If you don't have any containers with separators you can separate the dry ingredients from the rest with a plastic bag or a smaller container that fits inside.
Why they're great
Adult Lunchables are seriously underrated. When you build them right, you get to enjoy a satisfying lunch that keeps you full for the entire day and is delicious.
The best part is that you never have to eat the same thing twice for lunch! I like to build these DIY lunchables for the week all at once (the easiest meal prep!). To keep things even simpler, you can use one protein source and shake up the sides that go with it.
Maybe you want to eat celery with peanut butter one day, and apple slices and baby carrots the next. Lunchables are an easy way to add variety to your meals and avoid food boredom. They're also the perfect meal when you don't know what to eat.
They last 3-4 days in the fridge and are super portable. You can put them together at the start of the week and take them almost anywhere! To work, the gym, out with a friend, a park picnic – you name it. 
Are adult Lunchables healthy?
When you build them to be balanced with different nutrients, yes, adult Lunchables are healthy! I recommend combining a food or two from each of the main food groups for the best mix of nourishing, satisfying nutrition. This includes:
protein
healthy fats
fiber-filled carbohydrates
fruits and veggies
Adult Lunchables also tend to be more satisfying when you have a nice combo of contrasting textures and a balance of salty and sweet. For instance, in our first example, we have salty turkey balanced with sweet grapes; crunchy crackers combined with soft cheese. 
Ready for some dietitian-approved adult Lunchable ideas? Let's look at ten tasty ideas.  
10 Delicious Adult Lunchable Ideas
In this round-up, I'll share my top 10 ways to make an adult Lunchable that is delicious AND satisfying using simple ingredients. Use these easy meals as a packable lunch, a hearty snack…or even breakfast or dinner!
1. Turkey or Ham & Cheese
You really can't go wrong with a classic deli meat Lunchable. My favorites are turkey and cheese, or ham and cheese! When you choose your crackers, shoot for a whole-grain option to get a fiber boost. The fiber boost will keep you feeling full for longer.
Feel free to use whatever kind of cheese you like. You can buy a brick and cut it up into little slices or use the pre-cubed or sliced varieties for a time saver! Red or green grapes will do, although red grapes are slightly higher in antioxidants (1).
If you like a little something extra with your lunch, you can always add in a square of chocolate or any of your favorite snackable sweet treats!
My favorite combo:
Turkey slices
Cheddar cheese
Whole grain crackers
Grapes
Cucumber slices
2. Veggies & Dip Lunchable
This Veggies & Dip Lunchable is full of color and crunch. You get a delicious dose of vitamins from the bell peppers and cucumber, and fiber from the carrot sticks (2, 3). Plus, a protein boost from the homemade ranch dip, which only takes a few minutes to whip up.
My favorite combo
Carrot sticks
Cucumber slices
Sliced bell pepper
High protein ranch dip (Greek yogurt + ranch seasoning)
Whole grain crackers
Cheese
3. Chicken salad with crackers
Chicken salad is the star of the show here, and you can make your own recipe, or grab the store-bought kind. No judgment, you're a busy lady! It might seem like a no-brainer, but I recommend keeping the crackers in their own compartments or a small plastic bag to keep them from getting soggy.
My favorite combo
Whole grain crackers
Chicken salad (homemade or store-bought)
Celery sticks
Apple slices
Peanut butter
4. Deconstructed cobb salad box
Last but not least, a refreshing and crispy cobb salad… minus the lettuce.
Start by boiling your eggs, then get to work slicing the tomatoes, cucumbers, carrots, and avocados. Or you can skip all (or most) of those steps by subbing in cherry tomatoes, a handful of baby carrots, and pre-sliced cucumbers. Let the boiled eggs cool, and cut them up into thin little slices.
When you put it all together, keep the ranch dressing, crackers, and cheese in their own compartments until you're ready to eat!
Hard-boiled egg
Tomato, cucumber, carrots
Cubed chicken
Avocado slices
Ranch dressing for dipping
Cubed cheese
Whole grain crackers
5. Starbucks-Inspired Egg & Cheddar Protein Box 
There's a reason those Starbucks Bento boxes are right by the checkout… they know exactly how irresistible those fresh ingredients are. But you can save a trip to the coffee shop (and some cash!) and make your own at home.
My favorite combo
Hard-boiled eggs
Grapes
Apple slices
Cheddar cheese
Whole grain crackers
6. DIY Pizza Lunchable
This list wouldn't be complete without a Pizza Lunchable! If the kids can have it, why can't you? Grab some whole wheat mini naan bread (are you noticing a whole grains theme?), and your favorite pizza toppings. If you have a homemade sauce recipe feel free to use that, but store-bought works just fine. Keep all of the ingredients separate until lunch rolls around, then build your mini pizza right at your office desk.
My favorite combo
Mini naan breads
Pizza sauce
Mozzarella cheese (shredded or sliced both work!)
Pepperoni slices
Sliced bell pepper
7. Hummus box
This hummus box is an excellent light, fresh, and completely vegetarian option that can easily be made vegan by swapping out the cheese stick.
I recommend yellow, orange, or red peppers instead of green if you want a sweeter kick. And feel free to add your favorite nut of choice. Almonds, walnuts, cashews, or pistachios are great options and all provide healthy fats, protein, and fiber (4). 
My favorite combo
Hummus
Pita bread (or pita chips if you prefer more crunch!)
Broccoli, carrots, peppers
Mozzarella cheese stick
Nuts
8. Vegan Lunchable
My vegan foodies, I didn't forget about you. Prepare your tastebuds for a zesty lunch, complete with Italian dressing. Edamame provide a bunch of vitamins, fiber, and protein to keep you feeling full (5). I left the "fruit" option up in the air in this recipe. In my opinion, grapes pair nicely with the other ingredients, but berries, oranges, and kiwis (or any fresh fruit you like) work just as well.
My favorite combo
Tortilla chips
Hummus
Edamame, cucumbers + red onion tossed in Italian dressing
Fruit
9. Greek yogurt parfait box
Who says you only have to make lunch? Try a "Brunchable," instead! Add a breakfast twist with Greek yogurt, granola, berries, and your favorite nut butter. You can use fresh or frozen berries in this recipe – either way, you'll get lots of healthy antioxidants (6).
My favorite combo
Greek yogurt
Granola
Berries
Nut butter
10. Lunch charcuterie box
You don't have to host a fancy dinner party to enjoy a charcuterie board! For this recipe, I recommend choosing a mix of hard cheeses (cheddar, gruyere, or gouda) and soft cheeses (brie, goat cheese, or gorgonzola) that you'd typically find on a cheese board.. As for the deli meats, salami, ham, capicola, soppressata, and summer sausage are delicious proteins. Jam is also on the list, but you can swap in dark chocolate if you prefer it as your source of sweetness.
Cheese slices
Assorted deli meats
Jam
Crackers & pretzels
Olives
Nuts
Grapes
Enjoy your lunch!
If you need to shake up your boring old lunch routine, or just want to try a new recipe, Adult Lunchables are definitely the way to go. There are SO many combinations to choose from and remember the recipes above are really just a guideline. If you don't like this or that, you can always substitute ingredients to make a balanced meal you actually enjoy.
If you loved any of these homemade lunchable ideas be sure to share them with a friend!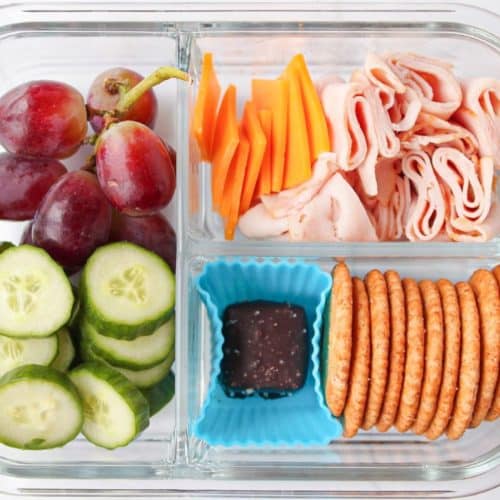 Adult Lunchables
A classic deli meat and cheese lunchable, but the adult version! Ham or turkey paired with cheddar cheese, whole grain crackers, grapes, and cucumbers.
Print
Pin
Rate
Ingredients
3

oz

deli meat

ham or turkey works best

1

oz

sharp cheddar cheese

cubed or sliced

1

oz

whole grain crackers

1

cup

cucumbers

sliced

1

cup

grapes
Instructions
Slice your deli meat into cracker-sized pieces or roll-up.

Arrange your crackers in a separate compartment (or put in a plastic bag to separate and keep from being soggy).

Arrange your cucumbers and grapes in another compartment.
Notes
If you don't have a partitioned storage container, be sure to separate wet and dry ingredients (ex: grapes and crackers) so that the dry ingredients don't get soggy!
Nutrition
Calories:
428
kcal
|
Carbohydrates:
54
g
|
Protein:
24
g
|
Fat:
15
g
|
Saturated Fat:
6
g
|
Polyunsaturated Fat:
2
g
|
Monounsaturated Fat:
3
g
|
Trans Fat:
0.1
g
|
Cholesterol:
56
mg
|
Sodium:
1404
mg
|
Potassium:
763
mg
|
Fiber:
5
g
|
Sugar:
27
g
|
Vitamin A:
479
IU
|
Vitamin C:
9
mg
|
Calcium:
254
mg
|
Iron:
3
mg