Air Fryer Spaghetti Squash?
If you've been following along with me recently then you know I've developed a little bit of an obsession with my air fryer. And, while I love spaghetti squash, it can be SUCH a pain to prep. Enter: air fryer spaghetti squash! It's just as easy as the microwave and gives it way more of that delish, toasty flavor you get from an oven.
The low-cook time is why I love my air fryer in general: it preheats so quickly and cuts the cooking time pretty much in half for anything that you would typically make in your oven.
Spaghetti Squash: Air fryer vs Oven vs Microwave
In my opinion, air frying is hands down the best method for preparing a spaghetti squash. It's faster than the oven and gives you the same exact result.
Air frying
Preheats in less than 2 minutes, total cook time 20 minutes and results in a flavorful, browned spaghetti squash.
Oven
Takes much longer to preheat, 30-40 minutes cook time, also results in a flavorful, browned spaghetti squash.
Microwave
Typically between 10-12 minutes of microwave time but is usually less flavorful without browning and is much "wetter" than the other methods. Microwaving often has inconsistencies in texture (some parts of the squash will be more cooked than others).
Step One: Size matters!
First things first, make sure you choose a spaghetti squash that fits! I have a 6 quart air fryer and a small/medium-ish spaghetti squash fit perfectly.
Step Two: Cut in half and de-seed
Preheat your air fryer to 350 and start prepping your squash. Slice your spaghetti squash (carefully) the long way and remove the seeds. This is the most difficult part because spaghetti squashes are just a pain to cut in general. It's smooth sailing from here!
Step 3: Spray and Season
Spray your spaghetti squash lightly with oil, and season with salt, pepper and garlic powder. I like to use avocado oil because it has a high smoke point, perfect for air frying.
Step 4: Air Fryer Magic
Let the air fryer do it's job! Compared to the 30-40 minutes that it takes to roast a spaghetti squash in the oven, the air fryer gets the same job done in just 20 minutes. I mean, look at that perfection!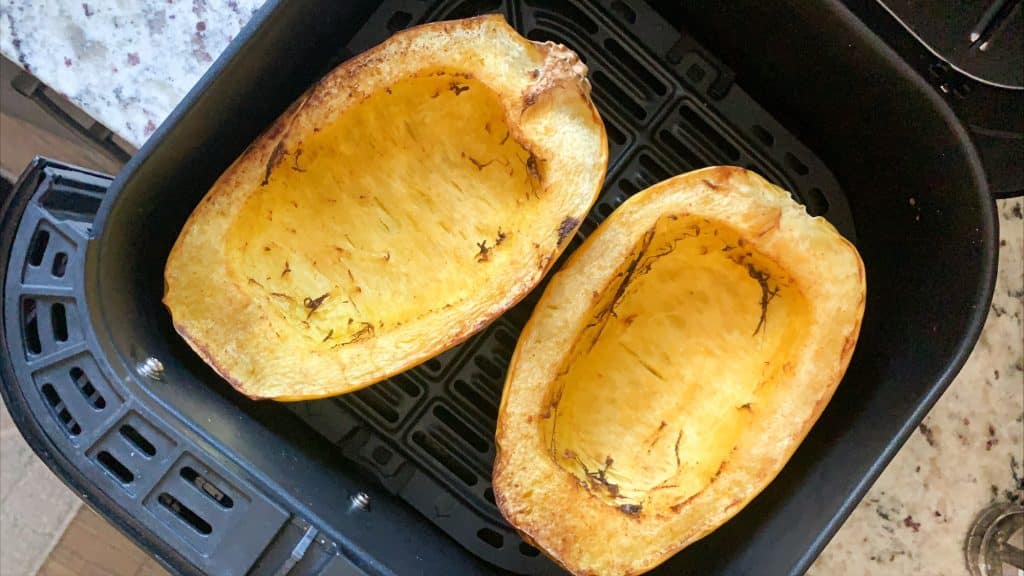 Spaghetti Squash Ideas
1. Keep it Simple
One of my favorite ways to use spaghetti squash is as a simple side. It doesn't always need to be a carbohydrate replacement. You can feel free to have your spaghetti squash on the same plate as pasta or rice. Spaghetti squash is low calorie and high fiber, making it a great veggie side to help keep you full. I love to add lemon, garlic powder and parmesan cheese for a simple healthy side.
2. Use it for the main dish
Spaghetti squash also makes a great base for a lot of typically pasta-heavy dishes. Here are a couple of my absolute favorites.
Buffalo chicken casserole

If you're a buffalo lover, this is a must try. It definitely takes a good amount of prep, but it's totally worth it!

Spaghetti squash casserole

This one is a more typical tomato-based, pasta-esque casserole that is perfect if you're a spaghetti and meat sauce lover.
Final Thoughts
I've prepped spaghetti squash countless times using all three methods (air fryer, oven and microwave). Using the air fryer to prepare spaghetti squash is hands down my favorite way to prepare spaghetti squash. It gives you best quality result in the least amount of time, which is always my goal! What are your favorite spaghetti squash recipes? Tell me in the comments!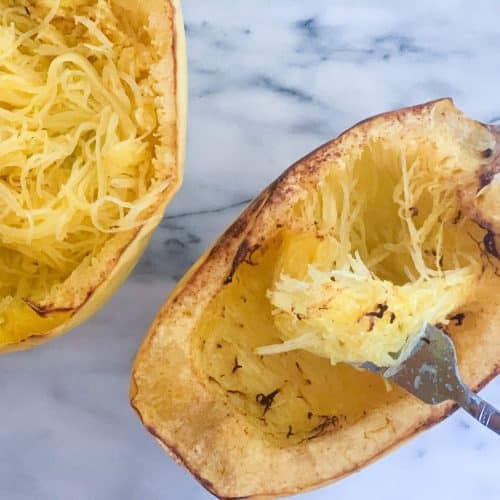 Spaghetti Squash: Air Fryer How-To
Perfectly roasted spaghetti squash in the air fryer!
Ingredients
1

small

spaghetti squash

cooking spray (I recommend avocado oil)

salt, garlic powder + pepper

to taste
Instructions
Preheat your air fryer to 350 degrees and set the timer to 20 minutes

While your air fryer is preheating, prep your spaghetti squash. Slice it in half, lengthwise and scoop out the seeds.

Lightly spray your deseeded spaghetti squash halves with avocado oil and season to taste.

Put your spaghetti squash in the air fryer, open side facing upwards

Cook for 18-20 minutes or until spaghetti squash skin is easily pierced with a fork.

Let cool for 5 minutes. Finally, using a fork, remove the spaghetti squash flesh from the skin.