If you're a spaghetti squash fan, you absolutely need to try air fryer spaghetti squash. It's just as good than oven-roasted (arguably, better!) and takes you half the time.
If you've never had spaghetti squash before, here's your sign to try this super versatile and nutritious veggie! Learn exactly how to prepare a delicious "roasted" spaghetti squash using your air fryer here!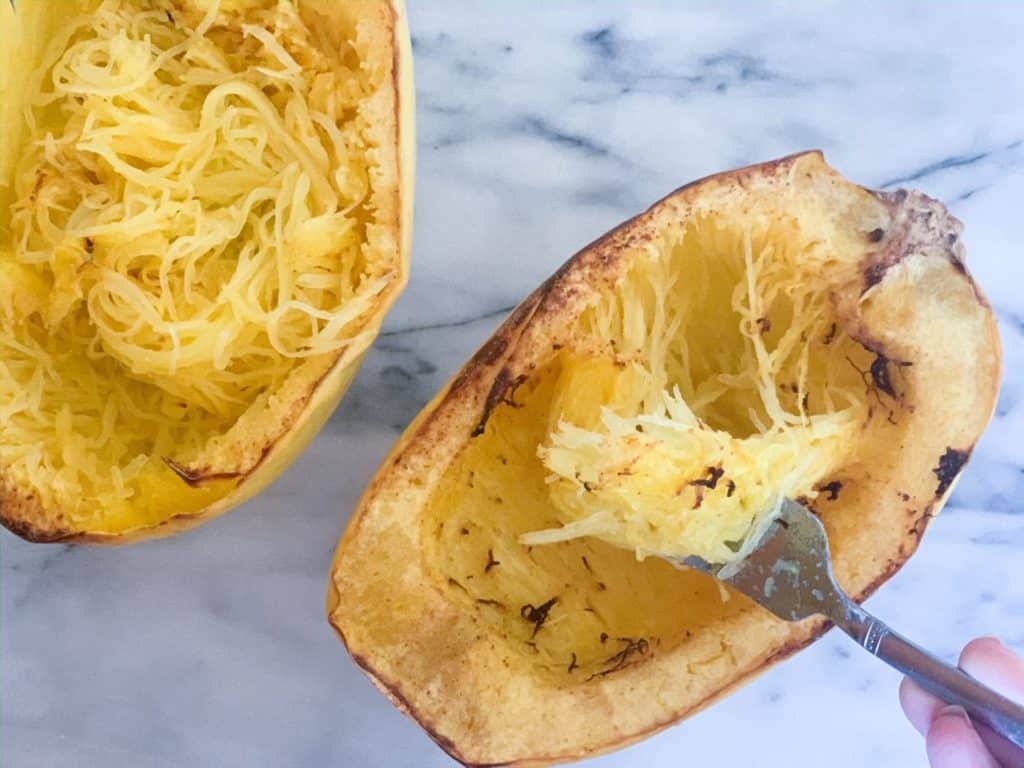 Why You'll Love Spaghetti Squash in the Air Fryer
It's much faster than traditionally oven-roasted spaghetti squash, and has a better texture than microwaved.
Spaghetti squash is SO versatile. It has a slightly sweet and nutty squash flavor that can adapt to tons of other flavors. I love make spaghetti squash lasagna and lemon pesto spaghetti squash.
It's a nutrient-packed vegetable! 1 cup of spaghetti squash has about 42 calories, 2g of fiber, and is a source of vitamin C and vitamin B6.
How to Cook Spaghetti Squash in the Air Fryer
Find a spaghetti squash that fits in your air fryer. I have a 6 quart air fryer and a small/medium-ish spaghetti squash fits perfectly.
Preheat your air-fryer to 350 degrees.
Slice your spaghetti squash (carefully!) the long way, and remove the seeds. This is the trickiest part because spaghetti squashes can be difficult to cut. It's smooth sailing from here, promise!
Spray your spaghetti squash lightly with oil, and season with salt, pepper and garlic powder. I like to use avocado oil because it has a high smoke point, perfect for air frying.
Cook in the air-fryer for about 20 minutes. Check for doneness around the 15 minute mark. Squash skin should be easily pierced by a fork and easy to "fluff" with a fork.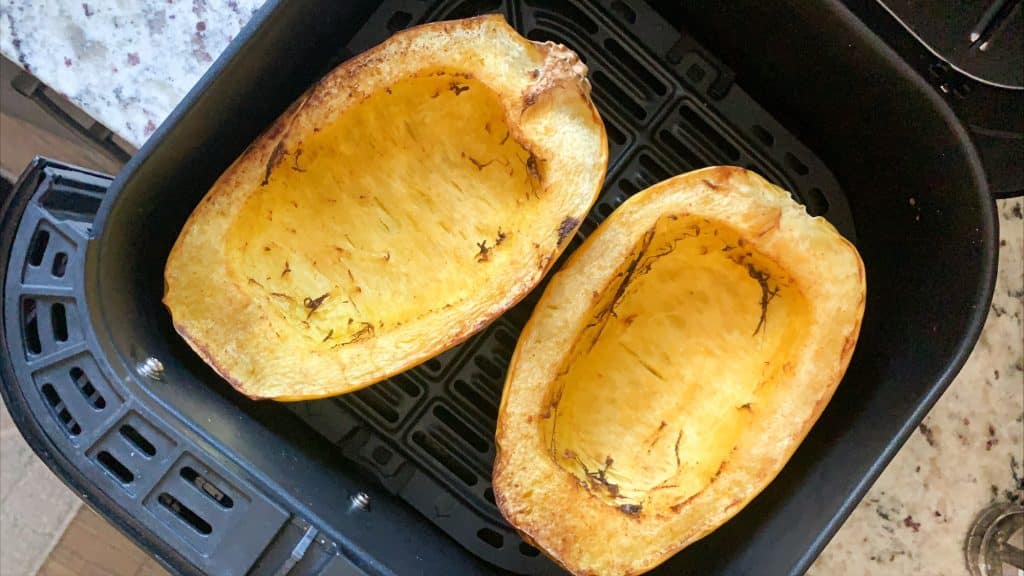 What if I Don't Have an Air Fryer?
No worries! You can still prep your spaghetti squash using the oven or microwave. Here's how!
Oven-roasted spaghetti squash
Prep your spaghetti squash the same, preheat your oven to 400 and roast for 30-40 minutes. This method takes longer to preheat but still results in a toasty and flavorful squash.
Microwaved spaghetti squash
Prep your spaghetti squash by keeping it whole and poking several holes all over the squash (this part is

important

so that you don't have an exploding spaghetti squash in your kitchen!).
Next, microwave on a safe-dish for 10-15 minutes. When skin is easily pierced with a fork, remove from the microwave and slice in half the long way carefully (it will be VERY hot).
The microwave is a great option when you're in a pinch, but doesn't brown so it's usually less flavorful than using the air fryer or oven. It also has a "wetter" and softer texture. Keep in mind cook times will greatly vary as microwaves can be inconsistent.
How to Serve Air Fried Spaghetti Squash
Keep it Simple
Serve your spaghetti squash as a simple veggie side. Add lemon, garlic powder and parmesan cheese for a super simple side dish to add to any meal.
Use it for the Main Dish
Spaghetti squash also makes a great base for a lot of typically pasta-heavy dishes. Here are a couple of my other absolute favorites.
Buffalo chicken casserole

If you're a buffalo lover, this is a must try. It takes a good amount of prep, but it's totally worth it!

Spaghetti squash casserole

This one is a more typical tomato-based, pasta-esque casserole that is perfect if you're a spaghetti and meat sauce lover.
Should You Replace Your Carbs with Spaghetti Squash?
You can if you prefer, but you don't have to! Spaghetti squash is often thought of as a complete carb replacement, but remember- you don't have cut out carbs to eat a healthy diet.
The bottom line: it doesn't have to a replacement. You can have your spaghetti squash on the same plate as pasta or rice rather than having it instead of pasta or rice. Do what works for you and what makes you feel best!
More Air Fryer Spaghetti Squash Tips
Cook time may vary depending on the size of your squash. The smaller the spaghetti squash, the faster it will likely cook.
Cook time will also vary based on the size of your air fryer. Make sure to check on your spaghetti squash periodically for the perfect cook time.
Final Thoughts
Cooking spaghetti squash in the air fryer is hands down my favorite method. It's quicker than the oven or microwave, the texture is perfect, and the toasty nutty flavor you get is unmatched!
Air fried spaghetti squash is such a simple veggie that I just know you're going to love when you give it a go!
Tried this recipe and loved it? Give it a 5 star rating below and tag me on Instagram @the.balanced.nutritionist!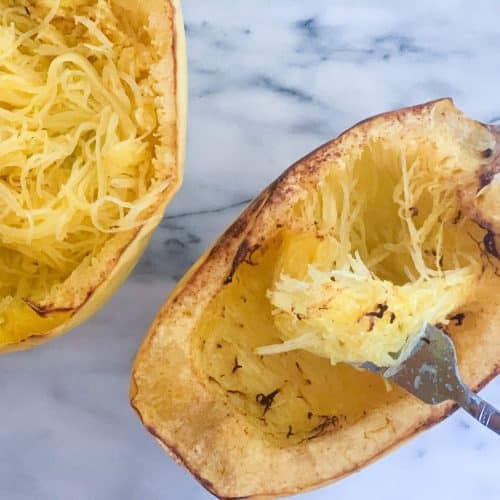 Air Fryer Spaghetti Squash
Perfectly roasted spaghetti squash in the air fryer!
Print
Pin
Rate
Ingredients
1

small

spaghetti squash

cooking spray

I recommend avocado oil for it's high smoke point

salt, garlic powder + pepper

to taste
Instructions
Preheat your air fryer to 350 degrees and set the timer to 20 minutes

While your air fryer is preheating, prep your spaghetti squash. Slice it in half, lengthwise and scoop out the seeds.

Lightly spray your deseeded spaghetti squash halves with avocado oil and season to taste.

Put your spaghetti squash in the air fryer, open side facing upwards

Cook for 18-20 minutes or until spaghetti squash skin is easily pierced with a fork.

Let cool for 5 minutes. Finally, using a fork, remove the spaghetti squash flesh from the skin.
Nutrition
Calories:
75
kcal
|
Carbohydrates:
17
g
|
Protein:
2
g
|
Fat:
1
g
|
Saturated Fat:
0.3
g
|
Polyunsaturated Fat:
1
g
|
Monounsaturated Fat:
0.1
g
|
Sodium:
41
mg
|
Potassium:
261
mg
|
Fiber:
4
g
|
Sugar:
7
g
|
Vitamin A:
290
IU
|
Vitamin C:
5
mg
|
Calcium:
56
mg
|
Iron:
1
mg