Pumpkin seeds and sunflower seeds have gained popularity as a nutritious snack, topping your salads, or sprinkling on your favorite oatmeal.
But which type of seed is the better choice?
I'm Jamie! As a dietitian with over a decade of experience, I know how much misinformation is out there about snacks, fats, and all the things with food – what's the real deal?
In this blog post, we are going to take a closer look at pumpkin seeds versus sunflower seeds and help you choose the best option for your health goals.
Nutritional value of pumpkin seeds vs sunflower seeds
If we compare a ¼ cup serving size (roughly a 1-ounce serving) of pumpkin seeds to the same amount of sunflower seeds, we're going to find two nutrient-dense options!
Pumpkin seeds
¼ cup pumpkin seeds
10 grams of protein
1.5 grams of fiber
Pumpkin seeds are rich in protein, healthy fats, and minerals such as magnesium, zinc, and potassium. The typical American diet is low in magnesium, so getting a boost of that is helpful for many of our body processes.
Sunflower seeds
Sunflower seed kernels can come shelled or in a shell, kind of like the shell on a peanut. A sunflower seed is black-and-white striped; the seed inside is a gray color. A ¼ cup of shelled sunflower seeds are also a nutrient-dense snack!
¼ cup of shelled sunflower seeds
6 grams of protein
2 grams of fiber
Sunflower seeds are high in vitamin E, B vitamins, and minerals such as copper and magnesium.
Both seeds are a good source of protein, dietary fiber, and healthy fats, which helps with digestion and keeps you feeling full.
Sunflower seeds are a tad higher in fat and fiber; pumpkin seeds are a bit higher in protein.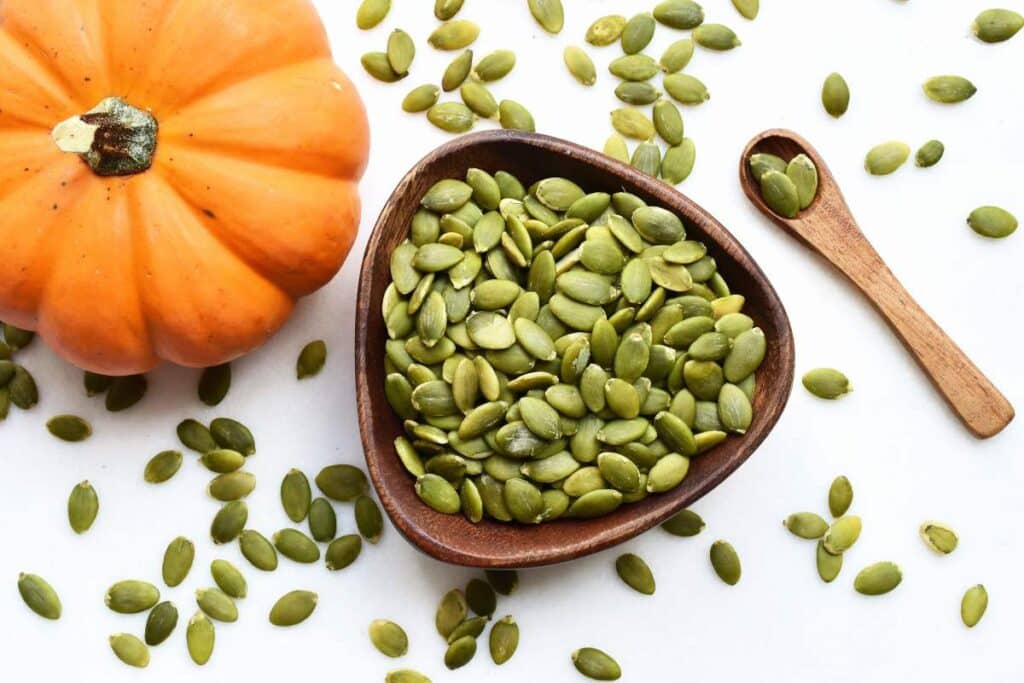 Pumpkin seeds vs. pepitas
These are actually the same thing! Kind of like comparing Fuji apples vs. Honeycrisp; they're two varieties of the same plant.
You can find pumpkin seeds with a white shell, like when you roast pumpkin seeds after carving your Halloween jack-o'-lantern, but more than likely, you're going to be eating seeds from a different variety of pumpkins. These pumpkin seeds don't have that tough white skin – in fact, they're green! Green pumpkin seeds are also called pepitas. 
Health benefits
Though they're different types of seeds, pumpkin seeds and sunflower seeds have a variety of health benefits. That comes as no surprise given their fiber content and healthy fat content.
Let's start with the health benefits of pumpkin seeds. Pumpkin seeds may help lower blood pressure, decrease risk of heart disease, and reduce inflammation. Pumpkin seeds may also lower the risk of breast and prostate cancers. They can even help to stabilize blood sugar levels.
Sunflower seeds, on the other hand, may have a beneficial effect on reducing risk of cancer, reduce cholesterol levels, and boost your immune system. Sunflower seeds can also reduce inflammation and stabilize blood sugars,  just like pumpkin seeds. 
More research is needed to confirm these benefits, but there is no denying that both edible seeds are a valuable addition to any healthy diet! Incorporating plant-based foods benefits all of us, no matter what kind of dietary plan you follow.
Flavor
When it comes to taste, pumpkin seeds, and sunflower seeds both have unique flavors. Pumpkin seeds have a slightly sweet, nutty and earthy flavor. Sunflower seeds have a more mild nutty flavor. Pumpkin seeds are a bit crunchier than sunflower seeds in terms of texture.
Both seeds can be roasted or eaten raw and can be added to salads, yogurt, oatmeal, trail mix, baked goods, or eaten as a snack. It's all about personal preference and finding the way you like to incorporate them into your diet.
Allergies
If you have nut allergies, sunflower seeds and pumpkin seeds are a popular alternative. In fact, you can buy sunflower seed butter, like SunButterⓇ, as an allergen-friendly alternative to peanut butter. You can also find pumpkin seed butter too, like this one from 88 acres.
Note: if you make a baked good with SunButterⓇ, it actually may turn a blue-green color. This is a harmless reaction but may surprise you if you weren't expecting it. Here is an example recipe if you're intrigued.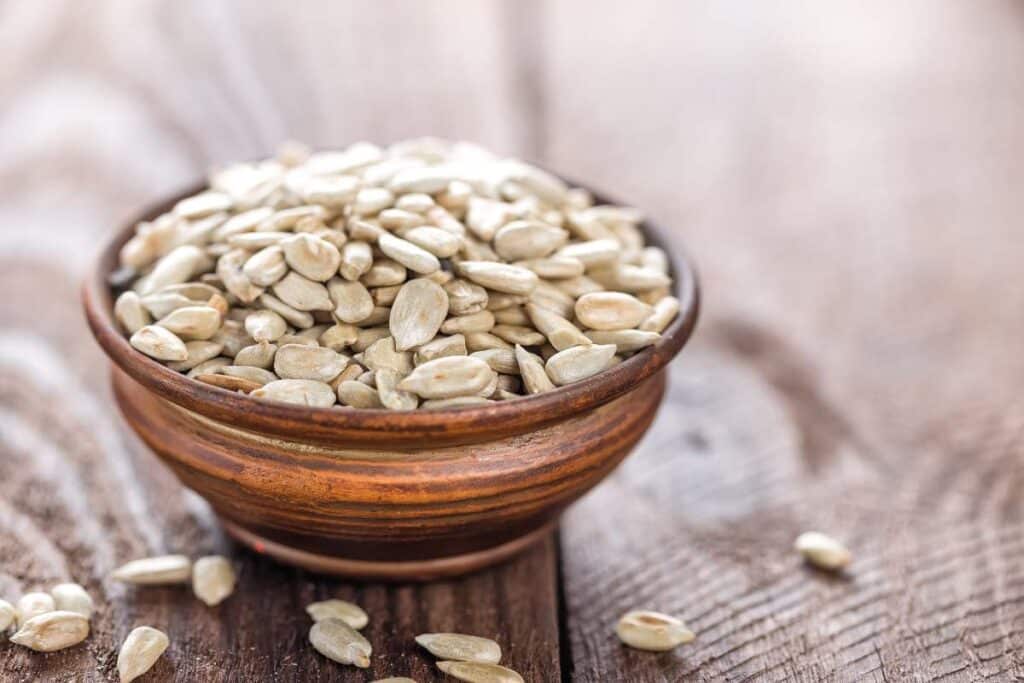 How to eat more seeds
Seeds (any kind!) make a great crunchy topping for foods that you may already eat, such as soups, salads, smoothie bowls, and warm bowls of oatmeal.
I tend to prefer roasted nuts and seeds, as the flavor is more complex and interesting.
Here are a few of my favorite recipe ideas that you can use as inspiration for topping with seeds!
Nuts and seeds are nutrient-rich foods that can complement any meal of the day or be the basis of a quick and portable snack.
I know that choosing healthy snacks, like seeds, can feel pretty confusing, which is why I wrote a whole blog post about how to build easy, filling (and tasty!) snacks. Check it out here: Balanced Snacks to Fuel Your Health Goals (RD Approved!)
That's a wrap
Who wins? It's a tie!
Both pumpkin seeds and sunflower seeds are healthy and nutritious snacks that are great additions to your diet. They are both rich in nutrients, have a variety of health benefits, and are versatile and tasty.
You can't go wrong grabbing a handful of seeds with either option. But, when it comes to choosing between the two, it ultimately comes down to personal preference and your health needs.
Easier said than done, amiright? While I'm glad that we were able to clear up the confusion about pumpkin and sunflower seeds, I know that you're probably wondering about a lot of other foods…how to eat in a way that feels good and is sustainable, long term?
I invite you to check out the only guide you're going to need: The Balanced Basics Handbook. In this comprehensive resource, you'll learn how to plan meals and snacks to support your wellness goals, without following a rigid plan. You'll have clarity on how to plan your days with a balanced diet and enjoy sustained energy. Download your copy today!
You'll Also Love:
Hemp Seeds vs Chia Seeds vs Flax Seeds: What's Healthier?
Collagen vs. Protein Powder: Which is Best for You?