These blueberry chia muffins are a staple breakfast item in my kitchen. I've also found the recipe to super forgiving and easy to tweak depending on what your personal flavor preferences are. Let me know in the comments below if you try them!
I LOVE blueberry muffins. They're delicious and they're super easy to grab, especially during a busy morning when there's not a whole lot of time to think about breakfast. What I don't always love about blueberry muffins (especially the ones you grab in a drive through) is that they're often packed with a lot of ingredients that just don't keep you full! So, you enjoy your muffin and then before you know it you're starving and wondering if you even ate breakfast!
So let me tell you why I love these blueberry chia muffins! These muffins are packed with fiber, protein and healthy fats to keep you full and satisfied all morning.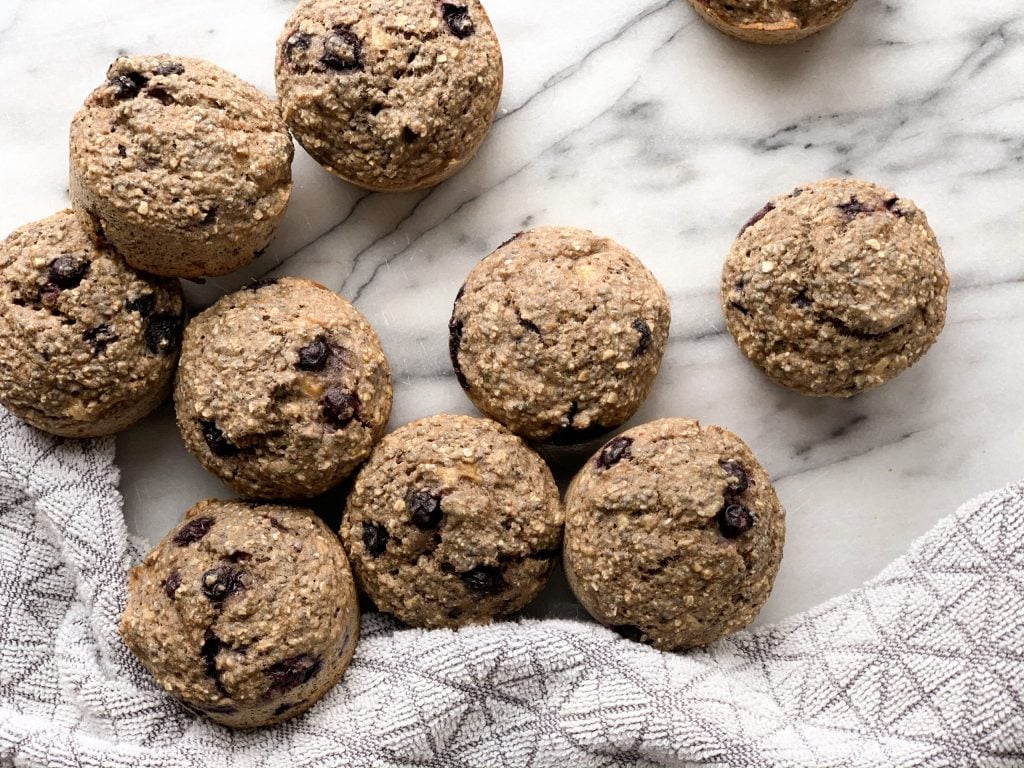 Fiber for Breakfast
Something that is extremely underrated in general, but especially at breakfast, is fiber. Fiber is well known for keeping our bellies happy, but it does way more than that. Fiber helps to slow digestion so that the food you eat actually keeps you full and provides you with long-lasting, sustained energy.
These delicious muffins are made from super nutritious, high fiber ingredients like banana, whole wheat flour, oats, chia seeds and blueberries.
Chia Seeds
With that being said, the star of these blueberry chia muffins is definitely the chia! Chia seeds are packed with nutrition. Just 2 tablespoons of chia houses 10g of fiber, 6g of protein, anti-inflammatory omega 3 fatty acids, magnesium, calcium, and iron!
Balance with Protein
Even though they're delicious on their own and pack an impressive amount of protein in just one muffin (5g!), I like to balance them out with protein for a perfect breakfast. I love serving these muffins with a couple of eggs, chicken breakfast sausage or a Greek yogurt.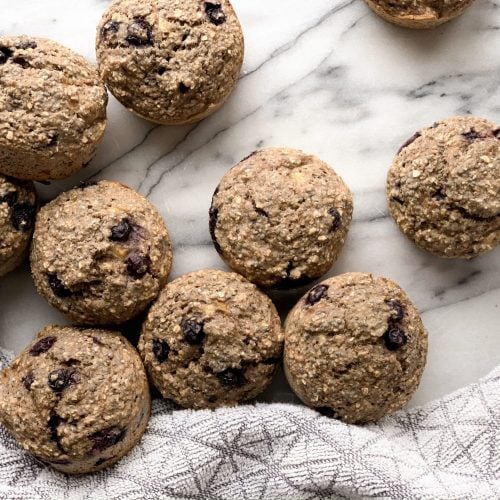 Blueberry Chia Muffins
Delicious blueberry muffins with a boost of protein and fiber to help keep you full all morning!
Ingredients
Dry Ingredients
1

cup

oat flour

(pulse oats in food processor)

1/2

cup

whole wheat flour

1/3

cup

chia seeds

2

tbsp

sugar

1/2

tsp

salt

1

tsp

cinnamon

2

tsp.

baking powder
Wet Ingredients
2

medium

bananas

mashed

2

tbsp

honey

1/4

cup

low-fat milk

1

large

egg

1

cup

wild blueberries

2

tbsp

water
Instructions
Prep 12 muffin tins in a muffin pan (or use a sillicone 12 muffin pan!) and preheat the oven to 400 degrees.

Combine dry ingredients in a large bowl.

Combine wet ingredients in a medium sized bowl.

Add the wet ingredients to the large bowl and mix until just combined. Be careful to avoid overmixing!

Carefully spoon muffin batter into muffin tins (or use a cookie scoop!)

Bake for 15-20 minutes. The muffin top should be golden brown and a toothpick should be able to cleanly pierce the center of the muffin.