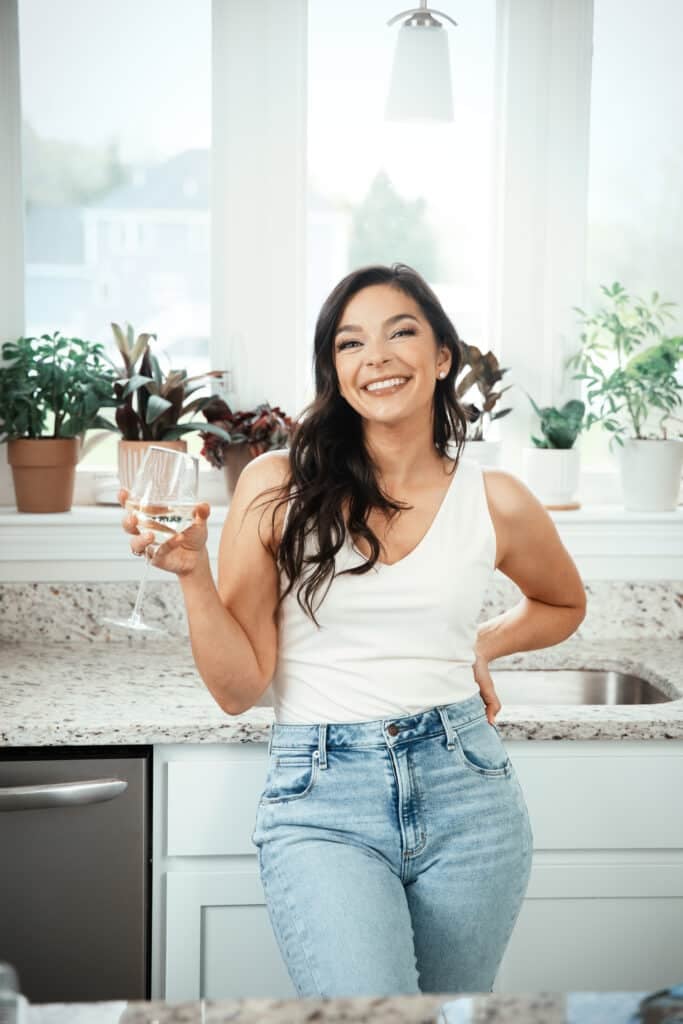 It's time to uncomplicate your diet & feel in control around food.
Find balance with food and stop the all or nothing dieting cycle with a flexible step-by-step, self-paced proven program created by a Registered Dietitian. 
Feeling fed up with your diet? You're not alone.
Have you tried every single diet under the sun and just can't seem stick to anything?
Do you want more than anything to feel healthier and in control around food? But for some reason, you just can't do it even though you "know what you should do"?
Are you cycling from "being good" to "off the rails" constantly and can't find the balance in between to actually be consistent? Let me be the one to tell you if you haven't heard this already….. it's not you.
You are not the problem.
It's not your willpower, and it's definitely not your self-control.
I've been a Registered Dietitian for almost 10 years, but healthy eating didn't always come naturally to me. I struggled with the same things myself for years. Now, not only have I totally reshaped my own relationship with food and diet, but I've helped hundreds of clients do the same. You can do this, too.
Every step-by-step resource in this Vault was created so that you can break free of the dieting cycle, feel in control around food, and finally have an easy, effortless diet.
What would it mean for your life if you could:
Never have to diet again.
Have healthy, consistent habits that felt easy.
Stop constantly thinking about food.
Feel in control around all foods, all the time.
Stop "all or nothing" dieting.
Enjoy your favorite foods without constantly over-doing it.
Prioritize your health and goals while living your life. 
Eat normally without overthinking it.
You can have ALL of those things, and you don't have to do this alone. Hundreds of women just like you have used this proven method to stop dieting, reach their healthiest weight and finally find balance with food.
For many years when I was struggling with my weight, I would think to myself: Am I just going to gain more and more weight every year? Am I ever going to feel like I have a healthy lifestyle down? I can finally say that I have lifelong habits because of this program. It is so knowledgeable, everyone involved is sweet, here to help you, not here to judge you and it has changed my life for the better.
I love love loved this. Before this, I was just lost as to what I'm really supposed to look for in my meals and snacks. Now I have a better understanding of how to read nutrition labels and not be so fixated on them. It's a sense of freedom from the diet culture and it's been a really nice change in my routine. Also understanding the different factors that can affect my weight each day helped me not be so hard on myself. This method has been so much more sustainable than calorie/macro tracking. My mindset around food has changed so much. The absolute best investment I could have done for myself.
Balanced Breakthrough has been a huge part of my hard work to undo the effects of diet culture on my life. I feel a freedom to truly enjoy food that I've never felt before. I am adding in more nutrient-rich foods at MY OWN pace, not because someone else told me I should. I've rewatched so many of the modules, and I hear something new each time that I can apply to my daily choices about what I eat and how I feel about those choices. Jamie's method just makes sense and feels so freeing and empowering!
I LOVED THIS! I wish I had learned all of this sooner. I am so happy you showed up on my feed. This was worth every penny. Thank you.
In the Balanced Breakthrough Vault, you'll learn how to:
What's Included in the Vault?
Lifetime access to every resource that I've created and used with clients or in any of my programs is in this Vault. There's over 21 modules with over 50 easy-to-follow videos, plus a full resource library with over 20 downloadable PDF resources, workbooks and guides.
STEP-BY-STEP VIDEO TRAININGS
50+ easy to digest video lessons that take you step-by-step through my proven method.  Go at your own pace while you learn everything from balanced meals to reading food labels to navigating emotional eating (and so, so much more).
The vault resource library is jam-packed with 28 downloadable resources including four different habit trackers, a 3-day journal, balanced meal and snack guides, recipes, workbooks, and grocery haul videos.
The Balanced Breakthrough Vault
Frequently Asked Questions
OH MY GOSH WHERE DO I EVEN START?
Jamie, you have changed my life! I now look forward to ALL foods - the ones that taste amazing AND the ones that make me feel amazing. Food no longer consumes my thoughts. I truly have improved my quality of life because I no longer have to count calories, follow the "rules" of a diet, or torture myself eating 1400 calories a day. I am doing things now because I want to, not because I have to. I am so excited for a life free of dieting and I am so excited to show my children how to have a healthy relationship with food - all because of you!
It has been legitimately life changing. Food no longer controls my life. I feel so much freedom surrounding food and actually around the scale too. I was so surprised how working with you has helped me have a better relationship with my body and self-image.
I implemented small changes each week and have maintained them ALL. I make good choices without even thinking about it anymore and feel so much better in every way. AMAZING! Physically and mentally! I'm happier, more confident, less tired, sleeping better, never bloated anymore or so uncomfortably full and rarely ever feel super hungry or super full anymore.
By the way-Hi, I'm Jamie!
I'm a Registered Dietitian and fellow ex-dieter. My passion is helping women just like you work through my proven approach, step-by-step so that you can feel AS amazing and confident as I do with food.

I know exactly how discouraging it feels to try to be "healthy" only to end up back in the same place each time, more frustrated than ever. My personal experiences with food and struggles with my own body are what inspired me to pursue becoming a dietitian. I now live my life enjoying and including all foods without guilt, and I want that for you too!

Food is a huge part of our lives, yet no one ever teaches us HOW to eat. I'm here to change that with you!
Ready to find balance with food forever?